News from the Stud - January to June 2008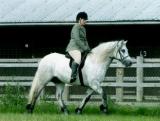 Freddie (Balleroy Mercury) won the NPS Picton Qualifier at Malvern in June with Helen, in his first ever ridden class.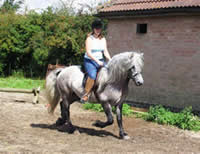 Balleroy Minstrel has just been backed by Katie and is now being ridden. Both looking very happy and relaxed.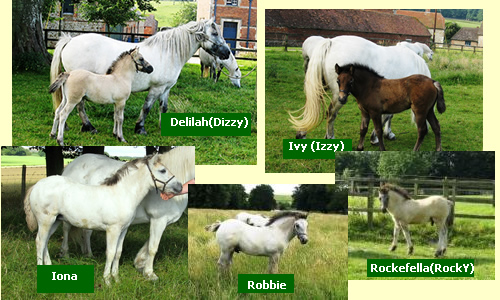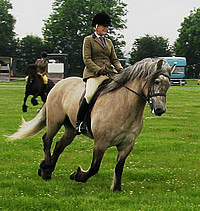 East Anglia Native Pony Society Show - Huntingdon
Ricky (Balleroy Maverick) had great success at the East Anglia Native Pony Society Show at Huntingdon
He was beautifully ridden by Kelly Gorman and brilliantly shown In Hand by Kelly's father, Tony.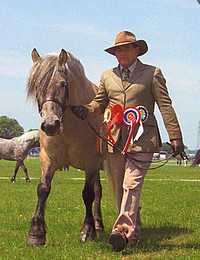 He had a near repeat of his younger brother's (Balleroy Minstrel) successes in 2007, winning:
In Hand Highland Adult Championship
In hand M& M Gelding Championships
In Hand Mixed M&M Championship - Haven Trophy.
For full results see the 2008 Results Page.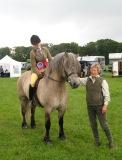 Ricky won the Large Breeds Picton Qualifier at BSPS Show Brockenhurst
Balleroy Yana
Balleroy Yana
(by Minstrel of Whitefield o/o Yasmin of Whitefield)
2001 - 2008
(Pictured here in 2007)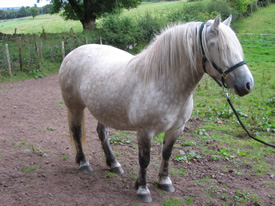 Sadly Balleroy Yana died of Acute Grass Sickness on 10th April 2008.
Yana was the full sister of Balleroy Minstrel and lived with her half-brother Balleroy Monarch (Muffy) in Perthshire, Scotland.
Yana had the most fabulous temperament and showed the versatility of her breed, having been ridden Western as well as English.
She is sadly missed by all who knew her, especially her owners Angela, Alan and David.
NB. Check out the Grass Sickness Fund website - don't think that all grass sickness cases look like those on the website- Yana looked just a little thinner than her 2007 photo, which is why it was so difficult to see.
Followed by the Good News:
The arrival of the 2008 foals
Yoyo had a colt, named Rocky and a filly from Isla of Strathmore named Iona.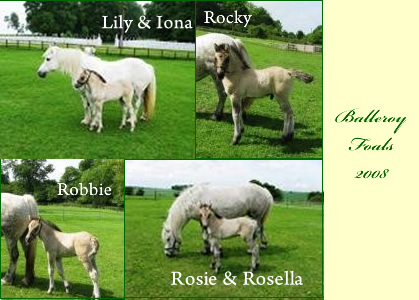 Next, the arrival of Dudu's colt foal, named Rob, followed closely by
Rose having a filly whom we have called Rosella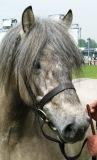 We had a very traumatic entry to Windsor Show, where Ricky was 3rd. in the senior class.
Ricky has now gone over to Kelly Gorman, who will be riding him for me at some shows this year.
In between times the thoroughbreds have produced the goods, Polly having a particularly smart filly, called Mandoline, full sister to Manchega both being by the eventer McGuigan. I know these are not Highlands, but Polly thinks that she is a Highland and has brought up her foals accordingly!