News from the Stud - July to December 2008
A sad end to the year for us - Yasmin of Whitefield, one of our original mares, died peacefully on December 23rd. Winner at the Royal Highland Show, as was her daughter, Gloria of Whitefield, she was dam of many lovely ponies, including Maverick, Yoyo and Minstrel, all of whom have won numerous Championships between them, also Yana, Monty and Yashmina. She was also foster Mum to Angel and Connie, who both benefitted from her care, love and attention. The dear lady is irreplaceable and missed enormously.
Although we haven't had much time this year for In Hand showing, our venture into the Ridden world has been very exciting and we now have the 'bug' - as long as we have Kelly and Sarah to ride the ponies!
Our thanks to Kelly and her 'team' - Katherine, Sarah & Tony - who produced Ricky (Balleroy Maverick) to perfection.
Balleroy Minstrel's introduction to ridden classes as a 4 y.o. has been as spectacular as it can get. From three entries, he has been Ridden Champion each time, qualifying for PUK Championship show in the spring. For more information and photos, see Cate's web page: www.taliskerhighlandponies.com
Monty continues his dressage successes, qualifying for the NPS Championships at Addington Manor next spring.
Inca had her first outing under sadlle at the same venue, with pleasing results and 10 out of 10 for 'Best Behaviour'.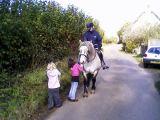 Very sadly, our sweet Mistral has gone to Green Pastures. Our condolences to Mel Bailey and her family, who treasured this lovely pony and are devastated at his loss.

Balleroy Minstrel has had an excellent start to his ridden career, with Catriona Drury:
BSPS area 16 - 1st Heritage Novice ridden and qualified for the BSPS championships
Newton Hall - 1st Heritage Novice ridden - 1st PUK confined novice - qualified PUK championships - Champion ridden M and M
EANPS Autumn Show - 1st NPS novice ridden - qualified for NPS championship - Champion ridden.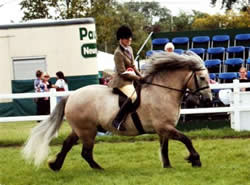 "Enjoying your Highland Pony" - Ricky winning the Open Highland Class
7/8 August: Ricky (Balleroy Maverick) had a successful show this week at NPS Malvern, winning the NFU Mutual Open Ridden Highland class, making him Champion Ridden Highland.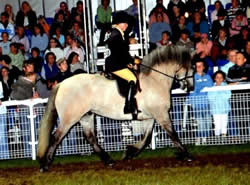 He was 3rd in the Highland Section of the NPS Picton Final. Their big excitement was then to ride in the Evening Performance, with music and floodlights - where Ricky behaved beautifully under Kelly's careful guidance. All very exciting for a pony in his first year of showing under saddle and we are thrilled.
Above Photos by courtesy of Colin Nicholas Photography