Balleroy Highlands enjoying the Scottish Snow
Some rather better news from the Stud
Our Secret Weapon
'Toffee' - aka Shortstuff - companion to Kate in the summer and now helping to raise a thoroughbred foal and a yearling.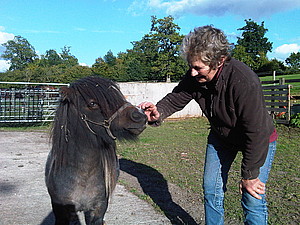 Isla of Strathmore (Obituary)
Very sad news from the stud as Lily (Isla of Strathmore) died recently. Another of our original mares, Lily gave us countless lovely foals, all with unbeatable temperaments, charm and a love of life. Two of her daughters, apart from being prolific winners In Hand, are now brood mares here carrying on her good work. Lily is irreplacable though and, as Alpha female, has left another gap, not only in our lives but with the herd, who all looked up to her.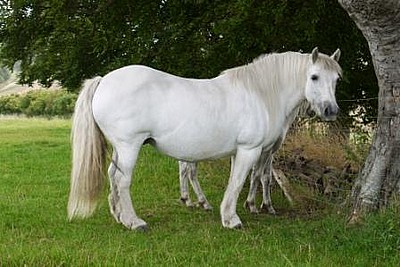 Isla of Strathmore - Legacy
---
19/9/2010 NEWBURY SHOW
Yoyo, Rigoletto and Ragtime were pulled out of bed early on Sunday to appear in the Highland, Fells & Dales classes at Newbury. Yoyo in the senior class and Ragtime in the Young stock class. Both were 3rd. in their classes but Yoyo was Champion Highland & Best of Breed and also won the Kilmannan Silver Medal. Ricky was also 3rd., in the Open Ridden qualifier. Sadly no nice photos available from the day.
12.9.2010
Stud walk here today went well with 15 odd members of the HPEC arriving after lunch at our local, the Malt Shovel, having visited Frances McWilliam's Finches Stud in the morning. All ponies on best behaviour, likewise walkers! Happy day had by all.
11.9.2010 Stop Press!!!
Ricky won the Ridden class at Romsey Show today, was Reserve Champion and won the Silver Medal. Great day for Kelly and Ricks, in spite of Kelly having a nasty fall in the Workers earlier in the day.
Festival of the Horses 2010