About the Stud
Our interest in Highland ponies was first kindled after a visit to the Royal Highland Show where we saw these amazing ponies in all their glory, both In-Hand and in the Ridden classes.
It was not long before two ponies, a three-year-old filly and a foal, found their way to us, as Highlands do. It was the beginning of a lovely journey. A mare soon followed and in no time at all we had two foals. We then got serious!
A trip to Scotland involving visits to both Whitefield and Charlie McQuattie's studs turned into a shopping spree. We came home with three mares, two in foal. Two filly foals were presented to us the next spring, both of whom turned into top quality youngsters, each winning consistently In Hand at County level.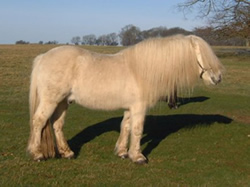 Our next venture was to bring Minstrel of Whitefield (then aged 20) down from Inverness to run with the mares. We felt that his impeccable bloodlines, conformation & agility were perfect for our mares, and this has proved to be the case.
We have had seven fillies and eight colts from him.

What a star he was, and what we really hadn't appreciated when he came here was his incredibly kind temperament, which he has passed on to all his offspring.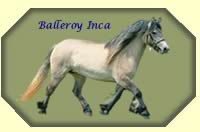 Sadly, "Minnie" was put down in September 2003. At 26 he still looked wonderful and was with his mares and foals to the end. He has left a huge gap in our lives but what a legacy he has left behind!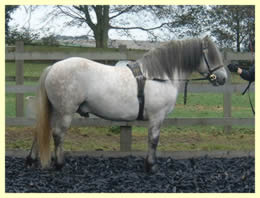 Lyncrest's Rhodri (Dougie) came here in February 2004. By Sporrandene of Kildavie out of Lyncrest's Rhodene (by Glen Aigas), he has superb bloodlines and looked as though he had potential as a replacement stallion for Minstrel of Whitefield. He ran out with all 'the boys' summer 2004 and grew into a handsome fellow with a lovely temperament – a real gentleman. He was backed in the autumn and did a few In Hand shows through the winter, winning several Championships.
Dougie was licensed in 2005, and covered several of our mares, producing three lovely foals this spring. Their photographs can be seen in the NEWS section.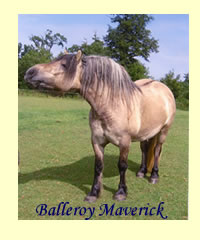 We are delighted to have foals again this year, particularly as our first foal, Balleroy Rooster is from our homebred mare, Balleroy Yoyo. With Razzmatazz and Yashmina arriving in quick succession, we have a lovely trio of Dougie's youngsters. He also has a colt foal, out of Fordavon Fiona, who belongs to a friend, Trisha Barker.
We have had a particularly pleasing show season, with Balleroy Ivy winning the senior highland class at Windsor, and Balleroy Yoyo winning the Brood Mare class, and the overall Highland Championship, at the NPS Championship Show in August. Her foal, Rooster, was second in the foal class.
Balleroy Montague has started his ridden career, and has taken over 'Nanny' duties from Katie, as Mother's mount. He will do a couple of winter shows and some indoor dressage. Monty is, I have to admit, the nicest Highland I have ever had the pleasure to ride.