2006 - First crop of foals by Lyncrest's Rhodri: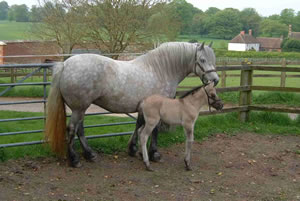 Lovely grey dun colt (Balleroy Rupert), the first of Lyncrest Rhodri's (Dougie) foals, and the first foal from a home bred mare, Balleroy Yoyo.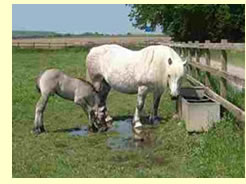 Another colt foal by Dougie (Balleroy Razzmatazz), out of Whitefield Lady Di - already showing signs of being a big personality.
Delightful filly foal (Balleroy Yashmina) by Dougie out of Yasmin of Whitefield - we are thrilled to a have a filly from Yasmin, who has produced so many good ponies in her time.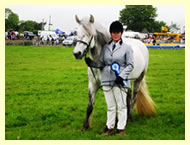 Balleroy Fenella has been doing great things with her local RDA Group, including winning a class with Margaret at Hickstead in the RDA Regionals. Also 2nd. In Hand at Heathfield Show. She is greatly loved by Rosemarie and her daughter and is so lucky to have such a nice home.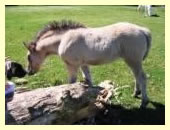 Pictured here is Bella's foal, Honeysuckle, bred in Wales where she now lives with the Hundletons. Bella was, in fact, the first Balleroy pony to have a foal.
We had a wonderful Open Day. Click Here to see the report.
We have been fortunate in winning the Yearling class at the Royal Show in consecutive years since 2000, with homebred ponies. Balleroy Delilah won this year, with Maverick, Major Tom, Inca and Dewdrop in the previous years. (2001 there was no Royal Show).
We were thrilled that Balleroy Ivy, who is the first of our youngsters to be produced in ridden classes, did so well at Malvern(2005), being 3rd. in the Novice Ridden (not exc.14hh) and 2nd. in the Nursery Novice. Beautifully ridden by Debbie Shilston, they both had a wonderful day and came home as pleased as punch.
Balleroy Minstrel (Mini Minor) has been safely delivered to his new home in Cambridgeshire where he will be run on until he takes up 'stallion duties'.
Balleroy Mercury (Freddie) is now with his new owner, Helen Best, near Worcester, happily installed with his two new Highland friends.