June 10th 2014
ChilternThamesRiderJune2014.pdf

Surely one of the most admirable of riders out there, still competing at 79, Pat Perkins, on Delilah. Not only competing, but also qualifying for CTR Dressage Championships. Congratulations to Pat and Lilo. Acknowledgements and thanks to Chiltern & Thames Rider. June Issue.
Two of ours with Kate Carnegie
6.6.2014 - Lanark does well
Three fledgelings happily settled and doing their stuff:
My dear Isla settled at last
Another exodus from Ashdown on 26th. March
And in exchange I now have Junior (Highland Chief of Talisker) here, who will be carrying out stud duties with some of Dougie's daughters this year.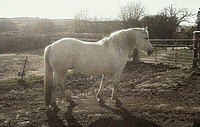 It is always a delight to hear about ponies who have left home and gone to new families, all the more pleasing to know that they are demonstrating the true versatility of the breed in every way from top level showing to endurance, with a bit of everything in between. This year we decided to share the story of one particular pony, Balleroy Iona, who now lives in Dorset. Iona's diary will be updated regularly and is a light hearted look at her new life and family. She leads a different life in comparison to many of our ponies and is about to become involved in some exciting projects - we hope you enjoy the first instalment as much as we did.